what is corrugated board?
measuring a box
standard styles
board grades
need to know
glossary of terms
Environmental
News
links


related products + sites
classifieds
talk to trade
pitch for tender: BUYER
pitch for tender: SELLER
Kids
Box Buyer Wizard
Box Clever!
Terms & Conditions





Corrugated packaging is fully recyclable and is made from a natural and renewable resource. The sustainability of the forestry resource is assured by both commercial and environmental considerations.

In fact forestry management and replanting programmes were in place long before environmental issues gained prominence. In part of Europe and America forest growth rate exceeds that of felling by more than 2 to 1. This ensures future supply and secondly young trees remove carbon dioxide from the atmosphere and replace it with oxygen, reversing the 'greenhouse effect'. In America almost one third of the United States is covered by forests. The reality is that hardwoods produced from the endangered tropical forests of the world are unsuitable for the manufacturing of paper.

Corrugated packaging is fully biodegradable and 100% recycleable. In fact over 70% of all corrugated is collected and recycled. Generally corrugated board is one of the more easily recycled materials. Waste corrugated may be recycled over 5 times before its fibre becomes too weak for further use.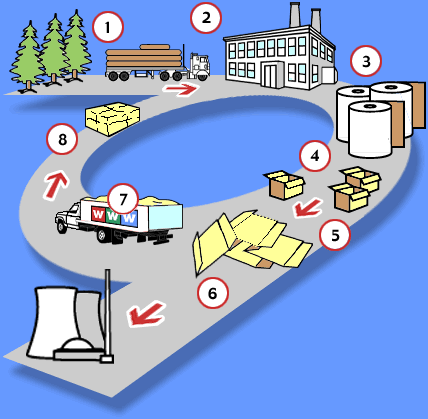 1. Wood for paper production is from sustainable sources
2. The wood is pulped in a paper mill...
3. Huge reels of paper are produced from new and recycled sources...
4. And used to make corrugated packaging
5. Corrugated packaging protects goods in transit
6. Some packaging is recycled as energy
7. The used packaging is collected from stores
8. Most of the used packaging is recycled to make new packaging

Packaging Waste Legislation

In Britain we have recently seen the introduction of Producer Responsibility Obligations (packaging waste) legislation. This legislation is all part of the pan European drive for packaging waste minimisation. This attempts to reduce the sheer volume of packaging being used and then entering the waste channels. The regulations are both complex and demanding on both the producer and consumer of packaging. The legislation does however have clear and specific recovery target for the recycling of various forms of packaging.

Environment Agency

PPA - Packaging

Envirolink UK

T2E






The history of corrugated dates back to more than a century ago. Thanks to basic raw materials, and despite considerable changes modern corrugated packaging is not so different than that of our great grandfathers.

Some Important Dates

1856
Two Englishmen, Healy and Allen obtained a patent for the first known use of corrugated. The paper was fed through a very simple hand machine made of 2 fluted rolls. The result was a nice fluted paper used as the lining in hats.

1871
The first use of corrugated paper for packaging was by an American man, Albert L. Jones who obtained a patent for the use of corrugated paper for wrapping fragile items such as bottles.

1874
Again in the United States, Oliver Long patented the concept of adding a liner to one side of the corrugated paper to strengthen it.

1881
Some US manufacturers considered as the corrugated pioneers acquired the patents covering this new packaging concept. They concentrated their efforts on developing new machinery. The Thompson and Norris company created the first mechanically-driven single-facer (one liner) and introduced the first 3 European Corrugators in Europe.

1883
London (UK)

1886
Kirchberg (Germany)

1888
Exideuil-sur-Vienne (France)

1895
Independent Equipment producers are entered the corrugated business production. The first continuous corrugator was developed by Jefferson T. Ferres of the Sefton Manufacturing Co.

A Century of continuous innovations and adaptation to the changing world
The production of corrugated packaging has showed rapid growth. It has accompanied the industrial revolution and has responded to the steady demand for more transit packaging. Corrugated production closely follows economic activity and has over the years shown dramatic worldwide growth.

Today it adapts to the constant evolution of the retail trade and its continually changing logistic requirements. Many changes have occurred and remarkable progress has been made in the improvement of raw materials, in the equipment, in the production processes and the printing techniques of corrugated packaging as well as environmental concerns.

In the last decade, the new printing techniques probably brought the biggest changes. The changing role of packaging from logistics to marketing functions, the use of bar codes for product identification have required improving the quality of graphics on corrugated packaging. Small flutes and high quality paper give a very high standard of graphics which offer new prospects in end-use markets.

Many driving forces will influence the future development of the corrugated packaging industry. The corrugated box is no longer just a form of product packaging. Corrugated packaging is one element in the efficient supply chain management. Consumers' attitudes, the environment legislation and information technology will all have an influence on this industry in the future.

Return to top








Copyright 1999 I Waterman (Box Makers) Ltd. All Rights Reserved Worldwide